Victoria's Secret: SL is just like RL… Part 1
After documenting the Victoria's Secret catalogue Photoshop disaster, I had a weird idea. Since I mentioned in that blog posting that the pictures from the catalogue look so much like SL snapshots, I thought, well, why not reproduce those pictures in SecondLife? Idea was in my head, and it wanted out; so I just started.
I started by making skins that would befit the models. To create those, I used a skin resource pack of mine which I haven't published yet.
Then, I photosourced some underwear – NOT from the Victoria's Secret catalogue pictures, of course, but from some licensed resource photos I have.
Afterwards, I created a first pose for one of the pictures in Poser. Lots of trial and error here – if you ever created poses you'll know that the hands of the avatar tend to disappear into the body (which basically has to do with avatar shaping).
Then, of course, I had to create an appropriate shape for my SL avatar. Oh and create a matching SL background because I wanted to photoshop as few as possible in the final shapshot.
Afterwards I went shopping, because frankly, if I would have created the hair as well, I would have spent more time than I wanted (which, at that point of time, were already ten hours on this fun project). I found hair that worked at 'Truth' – the 'Megan' hairstyle was almost what I needed, and it was mod, so I bought it, assumed the picture pose, and edited the hair so that it looked more like the one in the photo which I was trying to reproduce.
Plus, I bought a jacket, since I didn't really want to photosource one. As I said, much time already spent. The jacket I found is by Cypher Ivory, called the 'Yeti fur bolero'. The jacket, too, had to be edited so that it would fit the photo.
Then I could take my final snapshot, and edit that just a bit to add some more shadows and highlights. Well, just before I type my hands off, here's the evolution of work I described above – with underwear, slighly changed / adjusted poses, skin, hair, etc. – all in all, eleven snapshots until I got it right; the last one is the final one, but not edited yet:
 And here's the final image edited a bit to make it match the original picture a bit more; side by side with the original image from the Victoria's Secret catalogue. Unlike that catalogue picture, however, I've just added a few shadows and highlights to my snapshot: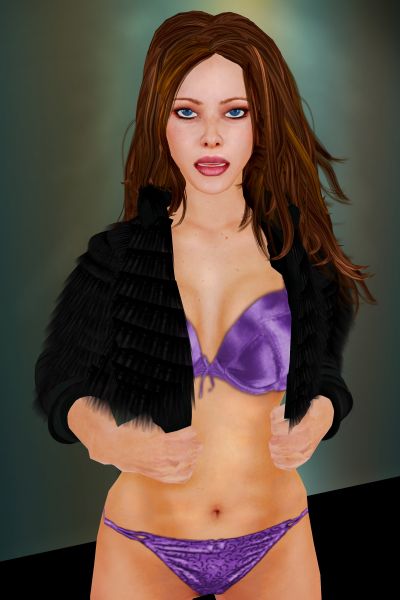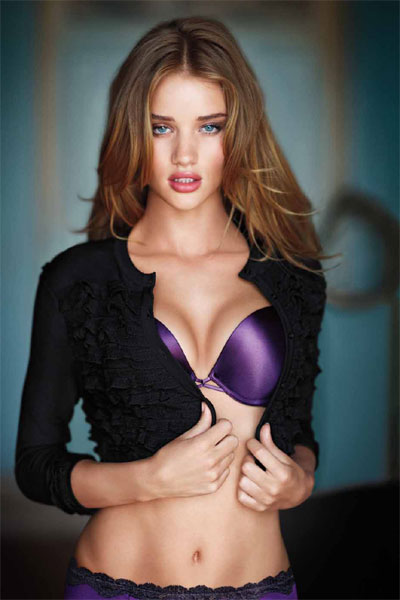 Just to prove that I haven't cheated, here's another snapshot of that final image (without the facial expression) from a different angle in SL, which I haven't edited: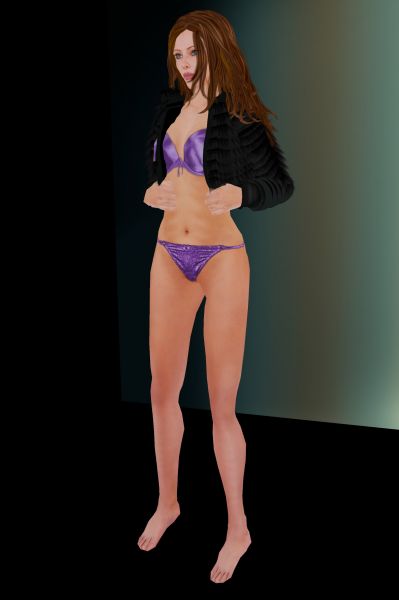 This is the first picture I reproduced; I'll reproduce the others as well, one per day. In case you're wondering, my skin and underwear can be bought nowhere, they just exist in my inventory since I made them myself. Maybe, eventually, I'll release them.
Hope you like my RL-SL Victoria's Secret transformation; if you do, stay tuned for updates 😉