Wunderlich's Juliet – Renaissance-inspired gown & headdress
Juliet is a Renaissance / Medieval inspired gown which comes with a scripted headdress that changes the hair color on click (as to why the dress is neither authentic nor historical for either period, please read the end of this posting).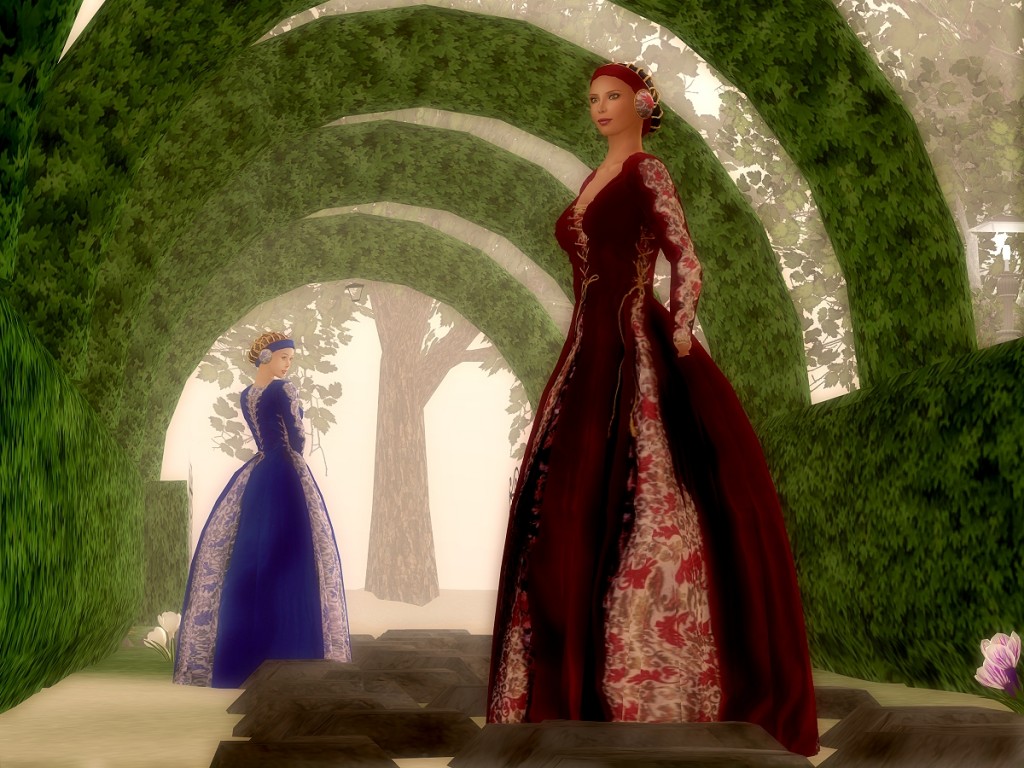 Here's a better picture of the headdress: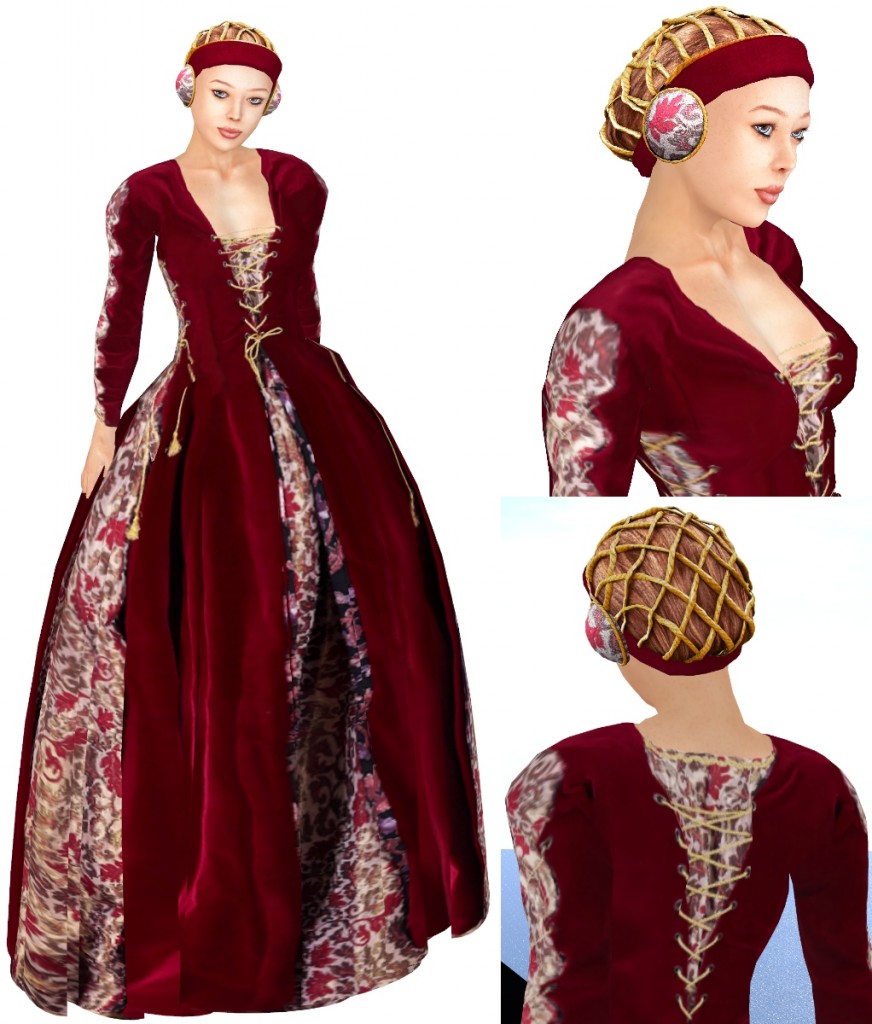 And this is how the headdress works:
Juliet comes in no less than 19 colors, all of which are pictured here: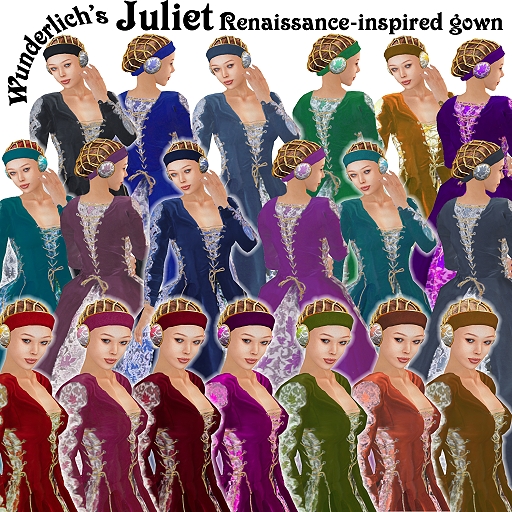 The Juliet dress with the scripted headdress / hair costs L$ 475 per color and is available at the 'Latest Releases' wall as well as in the 'Elizabethan / Renaissance' building of my Main Store; here is the SLURL:  http://slurl.com/secondlife/ZoHa%20Islands%20E/198/69/22 – hope you like it! 🙂
As already mentioned above, the Juliet dress and headdress aren't historically accurate.
Why am I writing this? For two reasons.
First, I know my stuff (which is historical clothing…) and second, Wunderlich's is known on the grid as THE source for as-historically-accurate-as-SL-allows-clothing, so I don't precisely want to ruin my reputation as such with a pretty but nevertheless not historically accurate gown.
Here's WHY the Juliet is not historically accurate.
The lacings: Lacings existed, just that they were EITHER done on the sides OR on front/back – the Juliet dress has both. Also, it has X-lacings, while during Renaissance / Medieval, ladder- or spiral lacings would have been used.
The sleeves: They're obviously sewn to the dress, are one piece from shoulder to wrist and have that pretty looking lacing on the side. None of which is, in combination, historical. In fact, if this were a Renaissance dress, the sleeves would be several pieces ("gauntlets") which would be laced together.
The underdress fabric: Obviously a very (shabby) chic upholstery fabric. Pretty, but – not historically accurate.
The overall shape: It's imitating an under- and overdress, but obviously, it is not – neither in SL nor in RL on the dress from which I photosourced the Juliet dress.
The headdress: So there's this interesting, very Renaissance-looking golden hairnet, with that headband and the ear muffs. Looks authentic, right?
Uhmmm, no. Actually you're mixing up a Renaissance hair net (which would have been worn without the headband and the ear muffs!), a 1980s aerobic headband (which, to my knowledge, was never paired with either the net nor the ear muffs…) and medieval cauls, a very special kind of headdress which actually HAD those "ear muffs" (which, historically, were called CAULS) – but it looked different since it was worn with veils and such.
For those reasons, I've put a disclaimer next to the Juliet dress in my store. See, the dress IS pretty. But it's NOT historically accurate. At Wunderlich's, I want to make sure that if people enter one of the period buildings, they can be sure to find clothing that's accurate for the period(s) the building represents; hence the disclaimer.
Nevertheless I hope you STILL like the Juliet dress – if you're not looking for authentic, historically accurate clothing, it's not the worst choice, if I may say that 😉
Best wishes,
N. Wunderlich