Next week's releases at Wunderlich's
Hi everyone,
I've been pretty busy over the past weeks with some projects; some of which will be released next week. Those are:
– First, a new dress – one that I call the 'Stars' dress. It comes on several layers, and the corset which belongs to the dress comes on the jacket layer (and therefore can also be worn with other clothing).
Here are some pictures (all of which can be enlarged by clicking them):
Also, despite the fact that one of my other skin resource packs has been resold by one of the buyers as a skin resource pack, which is actually a violation of my license which doesn't allow this, I have an upcoming skin resource pack (that means *.psd files to make your own skins for sale, in case you didn't know).
This, just like my hair bases resource packs for male and female hair styles of which some are still available, will be a limited edition with only 20 sold copies.
Of course, this is a completely photorealistic, seamless skin; just as you're used to from my previous hairbase- and skin resource packs.
The skin resource pack will be available on the SL Marketplace only and will come with a gazillion layers, such as shading, lips, eyebrows, makeup options, hair base and so on. Here are some pictures of a test skin I created using it: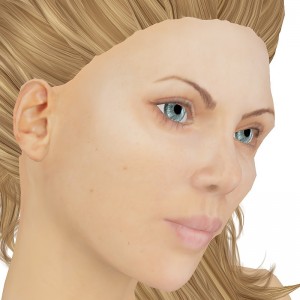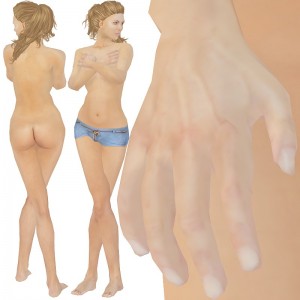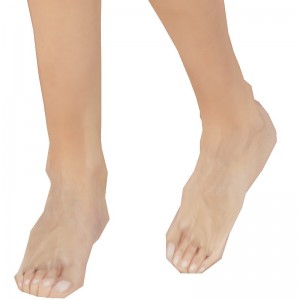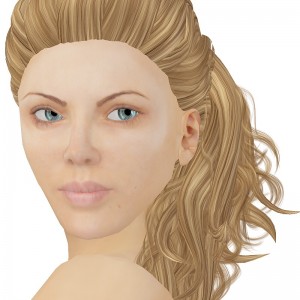 That, of course, is just ONE possibility of a skin you can create using that resource pack. You can use different shading (actually, you could even use the shading of Eloh Eliot's free 'Starlight' skins). You can use different lips, eyebrows, makeup. You can entirely change the skin tone; from very light to very dark to black and white or any other color, even, if you desire to do so.
What you create just depends on your creativity (and Photoshop skills).
In case you're interested in how I create my skin resource packs, please have a look at this video, which will also make it very clear how no one else who is 'just' using the very same reference photos by 3d.sk can achieve the very same texture result pixel-by-pixel (this was a claim the above mentioned reseller made: Her just looks like mine pixel by pixel because she used the same reference photos. Yeah sure! *lol*).
In case you're working with Poser and V4 and create skins for that character too, I will also have something available for your character creation at Renderosity. Please read on after the cut; note that the pictures are NSFW:
I've also released a skin resource pack, called a 'merchant resource for character creation', at Renderosity, which is currently undergoing the typical Renderosity Marketplace testing and will probably be available by the end of next week at this link.
Note that it currently says it's "no longer available for purchase", but that's just a website bug. It's actually not *yet* available for purchase because of the aforementioned testing process.
This resource pack for V4 is, of course, just for V4. It's not for SL avatars since the UV mapping is completely different.
Here are some pictures of that resource pack; you can also read the description for it at the above given Renderosity product link: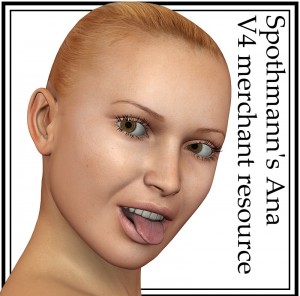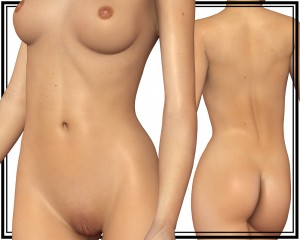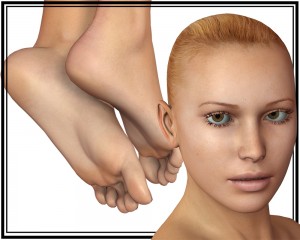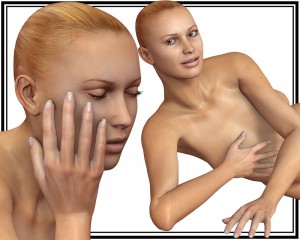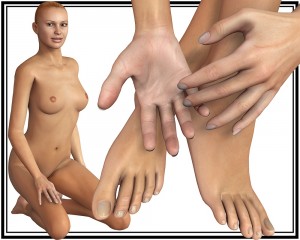 And here's another image I rendered using this character (click to enlarge, as usual – it's HUGE!):
This skin for V4 has, by the way, been created from the very same photo references by 3d.sk as the above shown SL skin, but of course has been photosourced on an entirely different mesh (that of V4 opposed to the SL avatar mesh, to be precise). Yes, SL shows skins VERY different from Poser. This also shows that 'photosourcing from the same photo references' doesn't result in the very same results at all on different meshes (or by different people 😉 ).
You will also notice that there's MUCH more detail in the skin for the Poser character. That's because a Poser character uses MUCH larger textures than an SL character – the body is covered with SEVERAL 4000×4000 pixels large textures, plus some smaller textures (3000×3000, 2500×2500 and 1000×1000 to be precise).
And just to compare, the largest upload size in SL is 1024×1024. An SL avatar uses three textures to cover the body in skin, so that's three times 1024×1024 pixels, at max. That Poser character uses an 1000×1000 pixels large texture too – for the EYELASH transparency (!). That's why the Poser character has WAY more detail than the SL character 😉
I'll keep you informed via this blog as soon as I have released the dress and / or the SL skin resource pack, and as soon as Renderosity has tested and approved my V4 merchant resource.