Historical skin and photorealistic eyes
Yesterday evening I released my first historical skin and some photorealistic eyes.
The skin is a 'Victorian' skin, having the typical features of the Victorian period – few to no makeup (meaning – a bit of lip gloss and one darker shade of lipstick plus a 'khol' option for the eyes is all you will get). However, unlike others, this skin comes with six different *lips* (rather than just 'lip colors'). Also, there's an option for 'freckles', which Victorian Ladies seemed to have many problems with (that, at least, would be an explanation why the magazines of that time held so many ads for 'bleaching treatments to fight freckles').
Here are two pictures of the skin, one for the body and another one for the makeups that are included in the package: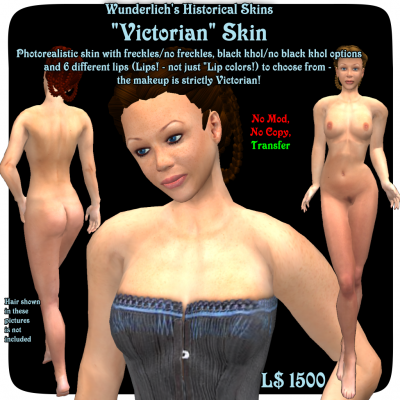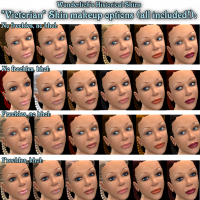 The skin – and, of course, a 1L$ demo version of it -is available at my main store in the skin department (upstairs – see the link to the left in the navigation (under "SecondLife Stores") to get an SLURL).
Also, I have it in my SLX store (demo version here and real version here). And just in case you're interested – I made this skin using my Skin Merchant Resource pack, which is available on SLX here.
And here's my pack of photorealistic eyes: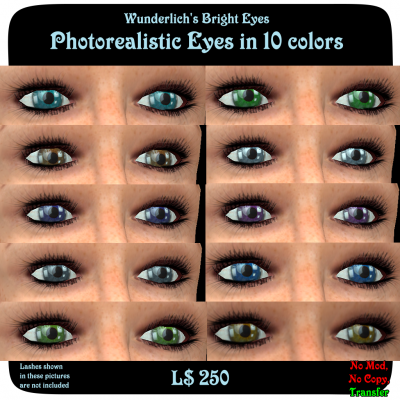 This, too, is available at the skin department of my main store and also on SLX here.
Currently, I'm (still!) working on my new collection of elaborate Victorian undergarments (at which you can partially get a first glimpse if you study the 'skin' picture above very carefully ;-)). Also, I have finished another new Elizabethan gown, which I will release soon. Stay tuned 🙂