New Animated 'Pulse' Avatars!
Hello everybody!
I'm glad to be able to announce that I've released a new kind of animated avatars – the 'pulse' avatars. They basically look as if they had a glowing pulse coming from their bodies, which is then running through their limbs!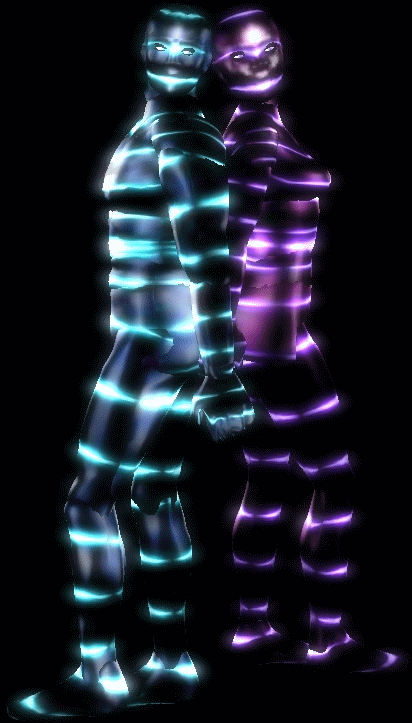 (Sorry for the image being slightly flickering. It's a GIF file and not a movie. The avatars don't 'flicker' like this; the pulse is steadily running from their stomachs to their limbs!)
They're available as 'male' and 'female' versions, and come in 11 different colors – one of them being 'Rainbow'; as shown in my last blog posting.
Also, there's a special introduction sale for them – each color is L$666 for one week; this offer is valid for these new 'Pulse' avatars as well as for the previous, 'Falling Letters' avatars (which are also known as the 'Matrix'-Avatars 😉 ). In case you don't know them, here's a video for you:
The animated avatars are available at the "Latest Releases" wall by the TP point of my main store: http://slurl.com/secondlife/ZoHa%20Islands%20E/177/51/21
and, of course, also in the "Animated avatars" building (where you can also get the 'Falling Letters' avatars at the above mentioned reduced price!), which is also not far from the main store's TP point; but in case you need an SLURL, here it is: http://slurl.com/secondlife/ZoHa%20Islands%20E/177/51/21 🙂
Hope you like the latest release 🙂