Wunderlich's "Irezumi" – full body celtic tattoo
A new release at Wunderlich's!
Click the images to enlarge them: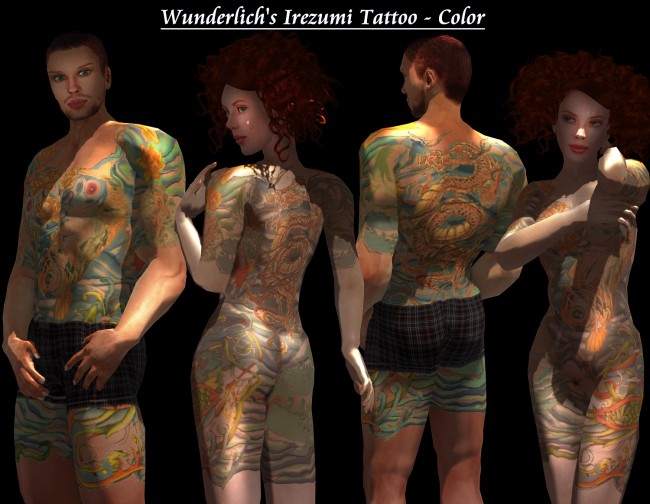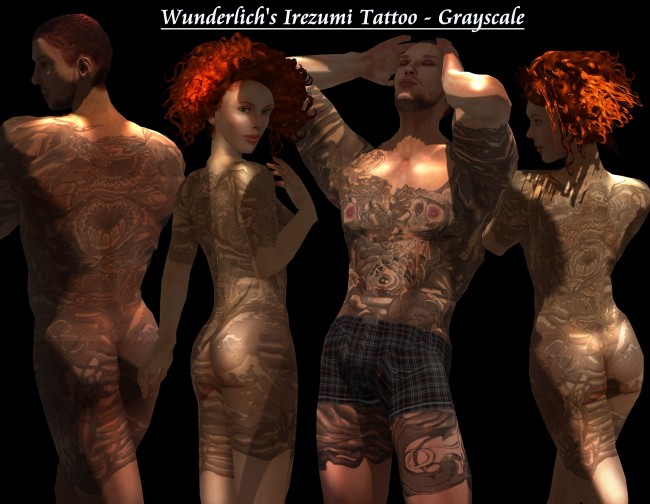 'Irezumi' is the Japanese term for a full body tattoo suit. This tattoo suit for SL avatars, carefully and seamlessly handpainted with koi fish, dragons, waves, celtic motifs and other things, is available in greyscale and colored.
Free demos are available so you can have a look at the tattoos before buying!
Each the greyscale and color package consist of:
system tattoo layers in all opacities (25, 50, 75 and 95% opaque) and
system clothing layers (undershirt / underpants) in all opacities.
When wearing the tattoos as the system clothing items, be careful that you only mix the correct opacities. For example, the '25 opacity undershirt (look at their names!) should only be worn with the 25 opacity underpants, and so on; otherwise, there WILL be a noticeable seam at the waist.
Each the color and greyscale package is L$250, the demos are, as they should be, free.
The tattoos are available at my store on the SL marketplace as well as at my inworld store – they're currently at the latest releases wall near the TP point of my main store and, of course, also at the 'Tattoos' wall at the back of the skin store.
August 18th, 2011 in
Skin