New at Wunderlich's-Rococo Embroidered fan and man's cap
Hi everyone!
I have two new releases.
First, a Rococo / Baroque fan with built-in custom fan AO: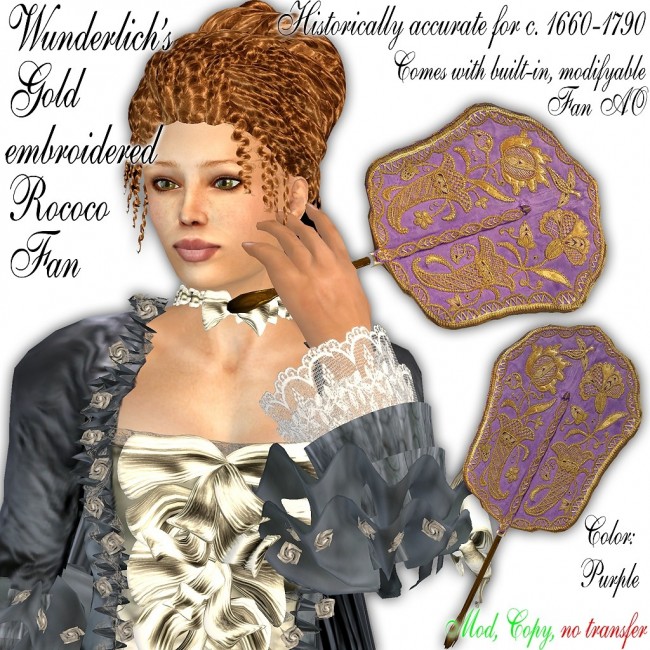 The fan is part of my Rococo clothing line and historically accurate for c. 1660-1790. Fans like these were used way more than the folding fans, since basically everyone could create them. Also, they made nice gifts since they were easily embroiderable and, therefore, personizable.
The fan is available in 8 different colors. I also have a demo version for 0L$ in case you'd like to try the fan with the animation before you buy. The actual version is copy / mod; that's valid for the fan as an object as well as the AO, so in case you decide to do so, you can add your own animations to that AO.
Also, I have released an embroidered Rococo Men's Cap.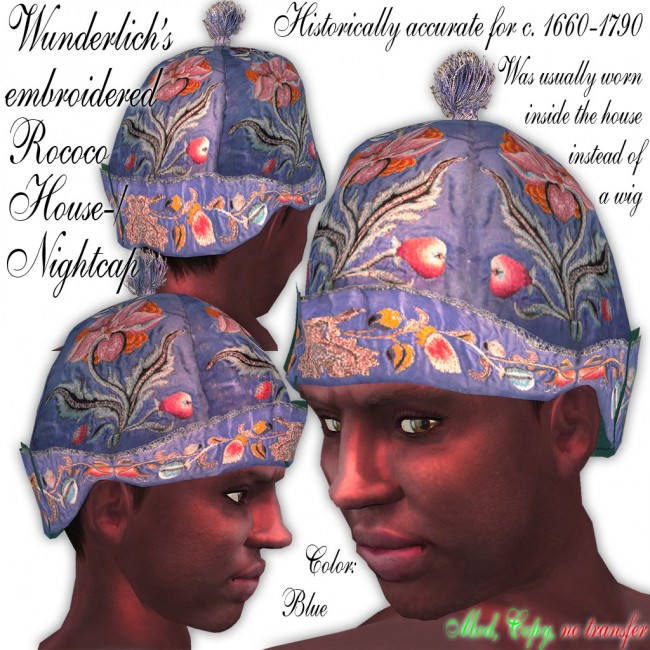 This, too, is part of my Baroque / Rococo clothing range and historically accurate for c. 1660-1790. Caps like this one were usually worn inside the house, instead of a wig.
(Of course, since this is such a nice floral embroidered hat, if not required to be historically accurate, it can also be worn by women, or by day, even! *lol*)
The cap is available in nine different colors.
Both the fan and the cap are L$ 199 per color.
All the new releases can be found at my main store:
http://slurl.com/secondlife/ZoHa%20Islands%20E/165/115/22
and, of course, also at my marketplace store:
https://marketplace.secondlife.com/stores/22172?search%5Bsort%5D=created_at_desc
(Copy and paste that last line into your browser!)
Hope you like the latest releases!
Best wishes,
Naergi